Tayen Gilbert, seven years old, is funny, clever and crafty. She knows just how to keep her family on their toes.
Tayen, has Neurofibromatosis (NF1), which causes tumours to grow along her nerves. As a result of her tumours, Tayen is fully blind and is brain damaged. She also has complex epilepsy and has hydrocephalus – swelling of the brain due to excess fluid.
Despite everything, she loves telling jokes, tobogganing, audio books and playing with Lego Duplo.
Her mum, Kali, 37, says: "Tayen keeps us all going. She is just so loveable. Anyone who meets her is so taken with her."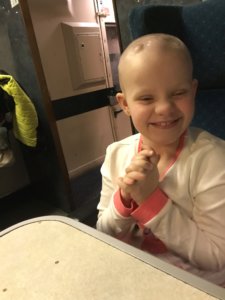 The Sandcastle Trust arranged for Tayen and her family to go on a special train ride at Christmas – it gave them a rare opportunity to enjoy the build up to the festive period in a safe environment where Tayen would be comfortable.
Kali continues, "In some areas Tayen is age appropriate, but in other areas she is naturally a little behind. It is very hard to pick apart what is going on inside her brain because of all the damage the tumours have done in there.
"We always used to do day trips with the boys, but it has become increasingly difficult managing her needs out in the community.
"Tayen's mobility is now really poor, because of all the chemotherapy she has undergone and the tumour growth. Her mind is very active, but her body lets her down. Loud noises worry her, if it's windy her hearing is affected and she has regular seizures.
"When she gets seizures her behaviour changes because she is in constant pain. She has a wheelchair buggy because her legs give way. It is really frustrating for her."
Kali has three older sons, Matthew, 14, Connor, 12, Lucus, 12, and is married to Kevin, 40 a lorry driver. The family live in Bridgewater, Somerset.
The family used to have an annual tradition of doing a festive outing but since Tayen's condition became more challenging they had found it harder to get out into the community.
Kali applied to The Sandcastle Trust for a family trip on the Dartmoor and Weardale Railways Train to Christmas Town. It's a festive train ride that she knew would be the perfect outing for her sons and daughter.
She explains: "The whole application to The Sandcastle Trust was very quick and easy. I filled in a form in 15 minutes. It was completely stress free.
"We were so grateful that we were able to do a trip as a family so close to
Christmas. That really helped with the magic. Tayen was still on chemo so we really didn't know where we were going to be.
"The trip itself was wonderful. All my little family in the same carriage which really helped with Tayen's anxiety. We were able to enjoy the moment, the hot chocolate and the singing. It was lovely.
"Because you are contained in the carriage, I knew Tayen would be comfortable and that the boys would want to go too.
"Sometimes Tayen's anxiety is so bad I can't get out of the house. So as a family we are split up most of the time.
"It affects everything really – our sons have grown up missing out on a lot despite all our best efforts.  Take parents evening for example – I can't always get out of the house if Tayen's anxiety is bad."
Kali, who was a teaching assistant at a special needs school, says: "I had to give up work to be there for Tayen whenever she needed me.
"She is pretty independent and has chores around the house just like her brothers. We encourage her constantly and love the fact she is inquisitive and wants to try things.
"We will always be so grateful to The Sandcastle Trust for giving our family such a wonderful opportunity. We created memories with all of the children which is so special given the uncertainty of the future."