Sixteen-year-old Maisie Doswell suffers from such debilitating headaches she has to spend most of the day lying flat on her bed.  Maisie has the rare genetic disorder Myhre Syndrome, of which there are only thought to be 30-40 reported cases worldwide.
From the age of seven she has suffered from excruciating headaches – caused by a build-up of fluid in her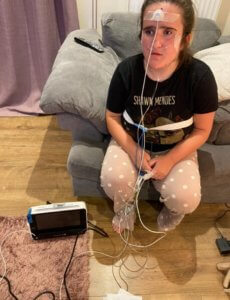 brain. She has had a shunt fitted in her lumbar spine to drain the fluid. It drains when she is upright and is causes terrible headaches on draining. Lying flat is the only way Maisie can get any relief from the pain.
Mum Karey Mason explains: "At the moment she is just a teenager in a bed unable to get up for more than half an hour because of the headaches. Painkillers don't work. She begs me for help, what can I do?"
When Maisie Doswell was born in 2003, doctors immediately picked up at birth that she could have a genetic disorder.
"My pregnancy was perfect," Karey recalls. "Then, as soon as I'd given birth, the room filled with doctors. Maisie had low set ears, sunset eyes, which means she couldn't look upwards, and a Palmar crease – which is a single crease across the palm of the hand. I was so tired I didn't take anything in. At first, the doctors thought she had Down's Syndrome, but that test came back negative. She spent four days in hospital and then we went home and we waited for a paediatric referral."
Karey, 39, from Rye, East Sussex and her then partner Ivan Doswell, noticed that Maisie was slow to meet her milestones, particularly slower to crawl, walk and talk.
At four-years-old Maisie said her legs were hurting and Karey had to rush out and buy a buggy for her to use. Then at the age of seven Maisie went through an early puberty.  At the same time, she suffered excruciating headaches.
Maisie was referred to Kings College Hospital, where they diagnosed intercranial hypertension – caused by a build-up of fluid in the brain. She had a shunt inserted into her brain and since then has been re-shunted over ten times.
Since the age of seven Maisie's health has deteriorated. She has lost the hearing in one ear and due to a lack of blood supply at the back of her left eye she has lost the total vision in that eye. Her vision in her right eye isn't 100% and doctors are battling to save the sight. She now has a lumboperitoneal shunt which drains fluid from her brain into her abdomen. If the fluid in her brain isn't drained sufficiently she risks losing the remaining sight in her right eye.
Maisie had been referred to a geneticist who suspected she had Myhre Syndrome. It took two and a half years for genetic testing to come back positive.
Myhre Syndrome is an extremely rare genetic disorder, with only 30-40 cases reported worldwide. It is caused by a genetic misprint in the SMAD4 gene on chromosome 18.  The majority of cases occur spontaneously at conception, as was the case for Maisie. Myhre Syndrome affects children differently. It can cause respiratory and cardiac problems, delayed development, loss of hearing and vision. Each person with Myhre Syndrome have a 50/50 chance of passing it on to their children.
"At least now we knew what the reason was," Karey, who is Maisie's carer, explains. "However, not a lot is known about the condition. Maisie looks like a normal teenager, although she is just 4ft 6" and has size one feet, but it has affected her life massively. She has gone from being relatively healthy to progressively getting worse.
"Maisie hasn't been at school for almost four years. She has learning difficulties and is academically and socially behind other children. It hurts her head to do anything other than lie flat. It feels like the worst hangover headache. She doesn't want to go blind, so she must have the drain in to relieve the pressure build up. When she is upright or walking around the fluid drains and that is excruciating. Maisie won't talk about what she is going through. She loves to knit and listen to pop music."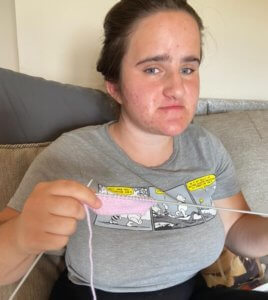 Karey adds: "If the doctors set the shunt higher, Maisie wouldn't have the headaches, but her eyes won't cope, and she would go blind. It is a horrible option to give a child. Either go blind or live with excruciating headaches. What is scary is that a couple of children with Myhre have passed away."
In 2009 Karey married Darren Mason, 46, a fencer and coastguard. The couple have two healthy children, Charlie, seven and Lily, six.
"It is a strain on the whole family as we're not able to go out with Maisie," Karey explains. "Every day is difficult, we just have to take it in our stride. It is a worry what will happen in the future. It is a scary place to be."
Maisie and her family have had support from the Sandcastle Trust, "The Sandcastle Trust has been amazing," Karey explains: "A day out is a struggle for us but for other children it is a stress-free experience. The Sandcastle Trust is there to help.  We had a lovely Christmas day out to Bedgebury  arranged by the charity.  They also organised for Maisie and our family to have a wonderful weekend in London.  We stayed in a central hotel and visited The London Dungeon and Shrek's Adventure – Maisie was so excited!
"Without The Sandcastle Trust,  the world would be a bleaker place for families affected by a rare genetic condition."