When their baby son Jacob was diagnosed with a life-limiting genetic disorder parents Gemma and Kevin Rimmer knew their world had changed forever.
Gemma, from Liverpool, says: "We realised our gorgeous boy would need 24-hour care. I had to give up work as a hairdresser. Kevin had to leave a good job on the railways for something more local. Alder Hey Hospital became our second home.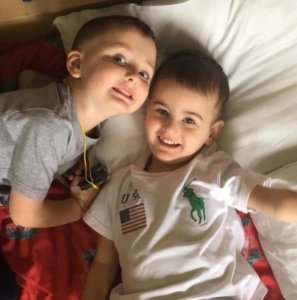 "For the first few months of Jacob's life his older brother Joel was passed from one family member to the next while we sat by Jacob's hospital bed."
The idea of a holiday or a day out seemed completely unattainable.
Gemma says: "Kevin became a taxi driver so he could be near us in an emergency. Our income reduced considerably and all our spare time was spent entirely on the boys.
"So when the Sandcastle Trust offered us a break it was absolutely magical to be able to take them away for the night."
The charity gave the family a trip to Alton Towers so Jacob, now three, and Joel, six, could visit CBeebies Land there.
Gemma says: "Seeing the excited looks on the boys' faces at the CBeebies Live shows was something I will always remember. We stayed in the Mr Tumble room which is Joel's favourite."
When newborn Jacob was just two days old he suddenly stopped breathing. He was rushed by ambulance to Alder Hey Hospital in Liverpool and hooked up to a life-support machine. He remained in a coma while doctors urgently tried to figure out the cause.
Lumbar puncture tests showed his glycemic levels were high. Doctors diagnosed Nonketotic Hyperglycinemia (NKH).
Gemma says: "They told us Jacob would need a lifetime of care, he could have as many as 24 seizures a day. They told us to summon our family to say goodbye and suggested we switch his life support machine off.
"We knew we wanted to keep him alive. We felt that if he had wanted to die he would have gone before the ambulance arrived at our house."
Jacob deified doctors' expectations and eventually started feeding from a bottle. At three months the family were allowed to take him home. He now smiles and giggles, can say a few words, loves watching CBeebies and is learning to use a 'switch' toy to increase his motor skills.
NKH causes epilepsy, global mental delay and stomach problems and Jacob also has cerebral palsy. The family continue to spend long periods in hospital.
Gemma and Kevin have become used to the routine of caring for him.
Gemma says: "Jacob rarely sleeps so we take turns being up in the night. He is fed through a peg in his stomach. His first meal is at 6am. I give him all his medication at 8am while I'm getting Joel ready for school. Then Jacob will have a feed every four hours, four times a day.
"Nappy changing is always a fight, he rolls away from us.
She adds: "Someone said to me the other day "you don't look like you any more". I used to wear make-up and always have my hair done but I just don't have the time now. I can't remember the last time Kevin and I went out as a couple."
The Sandcastle Trust has also helped Jacob and Joel visit Father Christmas in a local grotto two years in a row.
Gemma says: "With Jacob we take each day as a blessing so it's always bittersweet to visit Santa, it marks another year he has survived."