"Our little girl Matilda, Tilly, was diagnosed with Rett Syndrome in March 2018.
Tilly had developed normally until she was one, with no concerns whatsoever, but then started to gradually lose her skills.
Rett is a rare genetic neuro-developmental condition affecting mainly girls leaving them profoundly disabled.
Rett means Tilly cannot walk, talk, use her hands, transition between postures, and needs 24-hour life long care for every single need.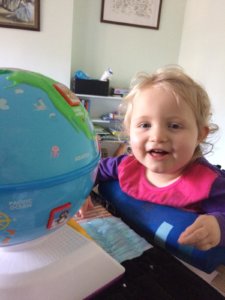 To say the news was devastating is an understatement and it has had a huge impact on our family – me, Tilly's dad and Tilly also has a three and a half year old sister Thea, who we try and ensure is unaffected as much as possible by the diagnosis.
During the first few months we were left reeling, and bad news after bad news kept on coming at her various appointments; she may need a feeding tube, she might not walk and intellectually, she may not exceed the age of a 2 month old.
When Tilly started to have seizures and tremors things became really tough for our family.
So, when we discovered The Sandcastle Trust after looking through a handout given to us to find funding for a pushchair, we decided to contact them.
Through the Sandcastle Trust we were able to have a fantastic break in North Yorkshire, a day after a really important meeting to discuss Tilly's educational needs.
We stayed in a brilliant caravan and had three days just us as a family, taking time to process what had happened, just get away and make it fun for Tilly and Thea.
They both loved it; we went to the children's disco, the beach, the swimming pool which was amazing and everything was geared towards the children. It was a holiday we would never have taken and we loved it that much I am sure we will go back.
Tilly's symptoms are now manageable, but every time we go anywhere we need to blend all her food, take all her medication, and equipment, and make sure she has everything she needs so she doesn't get distressed or upset.
The place we stayed in was huge and so it meant that we could take along everything we needed.
A year on from her diagnosis, Tilly is thriving.  Although Rett has had a significant impact physically, there is nothing to suggest that she is not the same age mentally as other two and a half year olds.
Going on this break took us away from the seriousness of everything, helped us gain a sense of hope and peace restored, which gave us the strength to carry on.  The Sandcastle Trust made that possible for us and I will be forever grateful.
What The Sandcastle Trust do is give you space to be able to get away as a family and breathe. That is what we needed to be able to step back into the uncertainty of life and what it now means for us.
Thank you Sandcastle Trust for supporting us it meant and means the world to us."