Mum Cally Benvie, 30, from Broughty Ferry, Dundee, is a wheelchair user after being diagnosed with the degenerative genetic disorder Friedreich's Ataxia as a teenager.
She enjoyed a blissful weekend Center Parcs in Whinfell Forest, Penrith, with partner Alan Moffatt, 33, an NHS porter, son Jay, 10, mum Jill, a nurse, and her mum's partner George.
The trip, organised by The Sandcastle Trust, enabled her family to be just that, a family and not have to worry about Cally's disability for the first time in a while.
Chatty Cally says: "It's not often I'm speechless but the holiday was so incredible I am lost for words. It was the first family break we have had since I had to use the wheelchair full time.
"I'm crying as I say this. A lot of Alan's attention has to be on me but going away with my mum meant Alan and Jay could do whatever they wanted without having to worry about me. Jay could come first.
"It was fantastic as a mum to see how much enjoyment my son got out of the weekend. It felt like we weren't focused totally on me having
 a disability we could just focus on being a family. It was magical."
Friedreich Ataxia causes progressive nervous system damage and impaired muscle coordination that worsens over time. It was Cally's dad who first spotted there might be something wrong with his daughter's movement.
She explains: "Dad lives in Wales so I didn't see him regularly. I was visiting him and he asked me 'What's wrong with your legs? You're walking strangely.'
"I hadn't noticed and told him not to worry but he was so concerned he insisted I saw a doctor when I got back to Scotland, which I did."
Suspecting a brain tumour, Cally's GP sent her for an MRI scan straight away. The results were negative so the doctor sent Cally's blood for genetic testing. She recalls: "I thought I might have something I could take a tablet for and it would go away, something manageable. But it wasn't.
"The doctor told me it was Freidreich Ataxia then gave me a leaflet he had printed from the internet and a website address.
"I'd never heard of it and didn't think too much of it. I had my lunch and went back to work."
Cally Googled the condition. She says: "That was a mistake. Google had me dying in a couple of years, it still didn't sink in. My mum was doing the same thing and was horrified. It was when I told my mum and she got upset that I realised it was more serious."
Cally had only just met Alan at the time. She recalls: "19 is an awkward age to be told you have a life-changing condition. Alan could have walked away then and there but he's stuck with me. He's been a great support.
"I don't think I would be doing as well without him. He's a really good listener. I found a good one there."
The first time Cally remembers FA impacting her came a couple of months after her diagnosis. She says: "I met Alan on a Friday after work. The doorman at the bar where we were going said: 'You're not coming in, you're too drunk.
"Then he said to Alan: 'You need to get her up the road pal. She's had too much.'
"I explained I had come straight from work and hadn't had a drink. I was angry he wouldn't speak to me but over my head to Alan. He wouldn't let me in. He said I was making it up. It would have been a bit of a thing to make up.
"I've never been back there."
"Now my balance and coordination aren't great and my speech can be quite slurred. It's got worse over the years but because I use the wheelchair all the time now everyone knows I'm not drunk."
Jay was born in 2011 and the family have learned to live with Cally's condition. Cally says: "Jay is very understanding and a big help around the house when Alan's at work, small things like getting something from the fridge or closing the blinds. He is always happy to help me.
"When he was younger he would just tell his mates 'my mum's a bit wobbly' and they would carry on playing. I've found children are a lot more accepting than adults."
She says: "I can't walk by myself any more but we get by. We live in an adapted house with a ramp. I use a wheelchair all the time in the house."
"My condition is progressive but I am quite a positive person. Like everyone you have the odd day when you're not doing so well."
Cally was furloughed from her office job during lockdown. Researching an accessible holiday to cheer the family up she stumbled across the Sandcastle Trust. She recalls: "Most charities are based around children, certainly ones for genetic disorders. But my disorder impacts my family.
"I was tearing my hair out with homeschooling. It was so lovely and reassuring to talk to Danielle from the Trust, she understood.
"She suggested Center Parcs and kindly agreed that Mum and George could come too."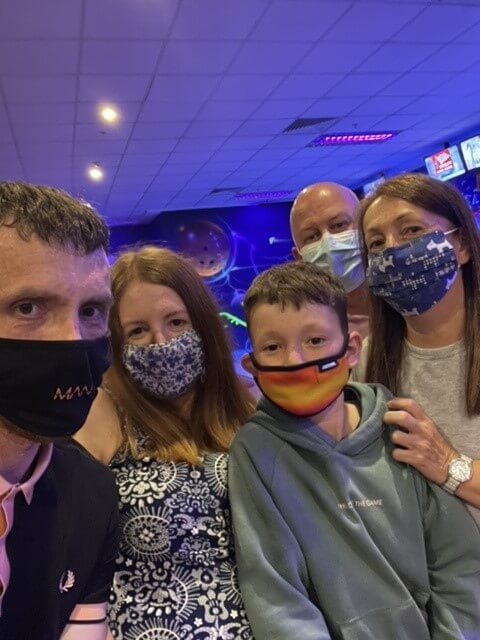 The family travelled in July 2021 at the start of Jay's school holiday.
Cally says: "After Covid it was amazing to be away from home. It was like a dream.
"My mum and I don't get much time together but  we got to have afternoon tea. The boys went swimming without the additional pressure of me in the wheelchair.
"Alan and Jay are very good, they would never say I'm an issue but they could have quality time together.
"We stayed in a wheelchair-adapted lodge. All the counters were at my level. The shower had a shower chair, my bed was a hospital bed. We didn't have the hassle of bringing any additional disability things with us.
"It was the most incredible weekend. If I was a millionaire I would be there every week.
"Jay loved all the activities, there's wildlife, tennis, badminton, shops and restaurants. But his fave things were the nights we were back in the lodge and we played board games and ate pizza.
"We would recommend it to anyone. The staff couldn't do enough for us. They took my disability seriously but it felt really, really safe and still like a holiday.
"Words aren't enough to explain how grateful we are to everyone at Sandcastle."