Eddie McEvoy is friendly, happy-go-lucky and has a great sense of humour.  The 23-year-old, who comes from Liverpool, is mad about snooker, plays each week and knows endless snooker facts.
Eddie, who lives at home with his parents, Joe and Deb, and older brother, Joe, has DiGeorge syndrome, which is also known as 22q11.2 deletion syndrome.
Those diagnosed with the condition can have hugely varying symptoms. While many can live with a very mild version and may not even know they have the condition, for Eddie, living with DiGeorge syndrome profoundly affects his daily existence.
Eddie has severe ulcerative colitis (inflammatory bowel disease) and ankylosing spondylitis (where the spine and other areas of the body become inflamed). He lives with a lot of pain, discomfort and tiredness which compromises his quality of life. He is also on the autistic spectrum and has learning disabilities.
The Sandcastle Trust awarded the family a much-needed short holiday to a Haven Holiday Park in Poole, Dorset.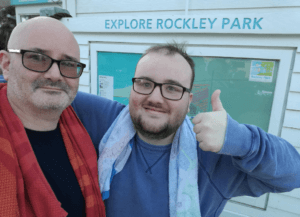 Eddie's Dad, Joe, 50, says: "Despite his numerous health challenges, Eddie has an overwhelmingly happy disposition and optimistic outlook."
Twice a week, he attends a community farm project and has a support worker who helps him with socialising and getting out and about. They go out a couple of times each week to swim or play snooker.
But unfortunately for the whole family, as Eddie has grown older, support has fallen away. The local council provide financial support towards Eddie's support worker, but it was a long and difficult process to obtain this and there is very little available in advocacy services.
And support for Joe and Deb as carers has been sorely lacking despite the fact that Eddie is very vulnerable, cannot be left on his own and is unable to care for himself.
Joe says: "We are essentially left to get on with it and the Carer's Allowance is a poor substitute for a proper wage, falling well below National Minimum Wage."
The Sandcastle Trust's support enabled the family to have a short break, which they otherwise would not have been able to afford.
Eddie's older brother, Joe, is also on the Autistic Spectrum with a different range of health problems.
Dad, Joe, a civil servant, explains: "I reduced my working hours and my wife had to relinquish any career goals to care for our sons.
"The impact has been huge; we no longer go abroad on holiday, frequent plans and 'normal' family activities have to be cancelled as a consequence of poor health. We can't take respite care because Eddie finds being with strangers very difficult.
"He gets anxious and stressed even if we're out of the house for a few hours.
"My wife and I were looking forward to doing more as a couple, especially in later life, however, we've had to accept that our sons will be with us indefinitely.
"We sometimes feel depressed, frustrated, exhausted, overwhelmed and alone.
"And yet we maintain a positive outlook and try to cherish the good times."
For the McEvoy's, The Sandcastle Trust's support was invaluable.
Joe says: "There is no age restriction in applying for a Sandcastle Memory which was brilliant for us.
"It was nice to spend time together as a family. Haven had an entertainment complex which wasn't too busy, which ensured Eddie, who can easily get stressed in large, noisy crowds, was content.
"Eddie enjoyed playing in the pool and swimming. He was very happy and content, which meant we were too.
"Huge thanks to The Sandcastle Trust for a wonderful break and for making the whole application process so easy."