Amy Wilton, 36, is mum to Frazer, seven, who has the genetic condition late-infantile Batten Disease. They live in Torquay, Devon, with Frazer's older brother Alfie, 11.
Amy said: "I had a completely normal pregnancy with Frazer, and he developed like any other baby. He hit all his milestones, he learned to walk and talk, and we had no concerns.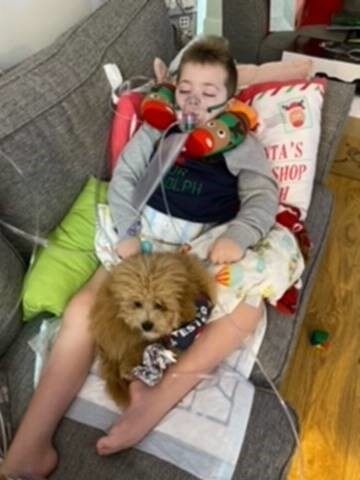 "But when he got to about three and a half he started to regress with his speech. He also started to develop symptoms similar to ADHD where his attention seemed to flit about and he'd have vacant spells where he'd stare into space."
Frazer started speech and language therapy, but without much success, and by the time he'd turned four he began to have problems with his mobility and started falling over.
Amy explained: "Frazer started to have seizures, and experienced something called myoclonic jerks. It was like he'd had an electric shock, his legs and arms would jerk violently, to the extent he'd be thrown off the sofa."
Frazer was at first diagnosed with epilepsy, but when medication didn't improve his condition and he continued to suffer muscle spasms and seizures, doctors ordered further tests.
Frazer was eventually diagnosed with late-infantile Batten disease just after his fifth birthday.
The condition is caused by a mutation in the CLN2 gene, and just five or six children a year in the UK will receive a diagnosis.
The progressive, life limiting condition means that children will gradually lose their ability to walk, talk, play, see and speak.
Amy said: "I'd spent hours researching what could be wrong with Frazer on the internet, I'd read medical journals and academic papers, but I had never heard of this.
"You try and prepare yourself for the worst, but you never actually expect it to happen to your child. I was devastated when we found out what Frazer had, and that it has no cure.
"I collapsed in the corridor in the hospital and was then sick in the car park. It was my worst nightmare come true."
The condition is extremely rare and is passed onto children from their parents, who both have a faulty gene. It is thought around 50 to 60 children in the UK are affected.
Amy said: "I was extremely worried that my older son Alfie would also have Batten disease, but he hasn't shown any symptoms. He may be a carrier but he hasn't inherited the illness like Frazer did."
Frazer started attending school, but as his symptoms progressed he had to stop as he became overwhelmed and confused by the classroom and other children.
Instead he now receives therapy from a school for children with special educational needs at home twice a week, and the family have a team of night-time carers.
Days out, short breaks and festive trips to see Santa are now not possible as Frazer needs 24 hour care, so Amy turned to The Sandcastle Trust to help create an extra-special Christmas in their own home.
She explained: "Frazer loves anything about Christmas, and particularly the lights and music, so we decided to turn our house into a Christmas grotto. The Trust have provided us with illuminated models of the Snowman and Snowdog in the lounge, curtains made out of fairy lights, snowballs, a Christmas balloon arch, decorations which play music – the works.
"It's wonderful to see Frazer in the grotto. He's content and relaxed as the lights twinkle and the music plays."
The Christmas fun continues outside in the garden, where the family have a snow machine, Christmas lights and a snowflake projector.
And older brother Alfie has not been forgotten, as the Trust provided him with a new laptop to enable him to keep up with his schoolwork and stay in touch with friends and family.
Amy said: "Alfie has had to grow up so much in the last couple of years, I'm so proud of him. He has seen trauma with his little brother that many adults will never have to go through, he knows how to use suction and give oxygen to Frazer.
"During lockdown we had to shield because of Frazer's condition, so Alfie's not been allowed to have any friends over. Having his own laptop means he can play games online with his friends and also keep up with all his homework."
While Frazer's exact prognosis is uncertain, children with Batten disease usually live to between eight and 12 years old. At the start of the year doctors told Amy to prepare that Frazer might not make it to the summer.
She said: "We were not expecting to be able to celebrate Christmas this year, so I'm very thankful that we can all be together. And to have such a magical grotto in our home that Frazer adores is an amazing gift.
"We don't know if we'll have another Christmas with Frazer, so spending time together and knowing that both the boys will really enjoy Christmas this year is very special."