Feisty, confident Maddison Sherwood dreams of being an actress.
The ten-year-old student goes to drama school in her spare time and loves nothing more than singing and dancing.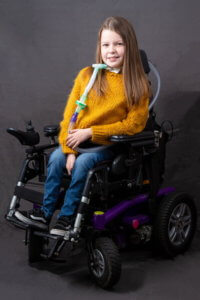 Maddison has the rare genetic disorder Spinal Muscular Atrophy with Respiratory Distress (SMARD) which means she uses a ventilator and tracheotomy to help her breathe and a wheelchair to get around. Her parents have become 24-hour carers.
The Sandcastle Trust took great pleasure in organising and funding a trip for Maddison's family to London's West End to see The Lion King.
Maddison's mum Lidia, 32, says: "It was the most wonderful couple of days which we will always remember. It was time away when could we feel like a "normal" family – we could forget the medical side of our lives and the constant fighting for Maddison.
"We felt so grateful the children could experience London and have fun."
Lidia explains: "After I contacted the Sandcastle Trust they organised our accessible hotel next to the theatre, tickets for the show and made sure both were accessible for Maddison's wheelchair. They paid for an overnight carer so Maddison's dad and I could sleep and even ensured we could park our car near the hotel.
"It was just brilliant. Maddison absolutely loved the show."
Maddison is Lidia and her husband Jamie's fourth child. Their other children are Lacey, 17, Harley, 14, and Jayden, 11.
Lidia says: "She wasn't planned but she was very much wanted. It wasn't until she was six months old that we realised something was wrong. She just caught a cold but was having real difficulty breathing. We took her to Queen's Hospital in Nottingham and didn't come out for 11 months.
"She went into respiratory distress and her heart rate was over 200 bpm. That was February 2009, our lives were never going to be the same again."
Doctors tested Maddison for different disorders and were about to leave her undiagnosed when someone suggested testing for SMARD. Lidia says: "They told us what it was and said she wouldn't live past two, until then she would just be a pair of eyes. At 2am they suggested we turn off the ventilator that was keeping Maddison alive.
"But we felt that where there was life there was hope. We kept fighting for her."
Now when those doctors see Maddison they tell Lidia how glad they are the couple made that decision. Maddison goes to mainstream school and is about to take her SATs, she even presents her own YouTube videos.
Life has not been easy.
Lidia recalls: "We spent so much time in hospital I missed lots of Jayden's milestones, like him taking his first steps. He still suffers from separation anxiety. People don't think of the impact on siblings.
"The hospital would not let Maddison home until we were trained in her care. Jamie had to give up his job as a builder to look after her with me."
Lidia adds: "Money is always tight and the other three children have had to become young carers. They are fantastic around Maddison but they often have to come second or miss out on things like football training. We can never go to parents evening together let alone go for a night out. These are such simple things other people take for granted.
"We get some help but it is not very consistent, paid carers often let us down.
"To be able to travel to London and forget all of that is something we will remember forever."