Lucy Chillery-Watson, 44, is mum to Carmela, six, who has LMNA Congenital Muscular Dystrophy, a rare genetic form of the condition.
They live in Devizes, Wiltshire, with dad Darren, 49.
Lucy said: "When Carmela was born she wasn't breathing, but the doctors managed to resuscitate her and she then developed as a normal baby.
"But when she wasn't crawling by the age of 14 months I was concerned. Doctors told me it was hypermobility and not to worry, but she kept falling over and was struggling to reach her toys.
"She had her check with the health visitor just after she turned two and was referred to a physiotherapist as she did not have the strength to stand up."
The physio told Lucy that her daughter was using the 'Gowers' sign' to stand up, where children use their arms to push themselves to standing position. This is linked to Muscular Dystrophy.
Lucy said: "They tell parents not to Google but I couldn't help it, and I was shocked by what I found. There are many types of muscular dystrophy but all of them lead to mobility problems of some degree. I didn't know if Carmela would walk or what kind of life limiting effects it might have."
Doctors continued to investigate, and by the time Carmela was three she was diagnosed with LMNA-Congenital Muscular Dystrophy (LMNA-CMD), a very rare form of the condition caused by a mutation in the LMNA gene.
The severity of how LMNA-CMD affects someone varies from person to person, but it causes muscle weakness which can lead to problems with the heart and breathing difficulties
Lucy said: "Because the testing had taken so long, by the time we got the diagnosis it was a relief to know what was wrong. I'd had almost a year to process and grieve the fact my little girl would not have the childhood I'd envisaged, and now we had a diagnosis we had something to work with."
But LMNA-CMD is estimated to affect only one in a million people, which meant no-one really knew the prognosis for Carmela.
Lucy said: "We were told Carmela's condition was life limiting and she was unlikely to live longer than her late teens, which was very hard to hear. We just put it to the back of our minds and decided to focus on doing what we can right now."
Lucy set up a Facebook page charting Carmela's journey in an effort to connect with other families whose children have the condition, and made friends across the world, including in Italy, Germany and South Africa.
Carmela struggles to walk long distances or up hills and relies on her power wheelchair when the family go on a walk together. She has also started to lose her arm strength, meaning she cannot lift her arms to scratch her head, for example.
And as the condition progresses it can weaken the diaphragm, causing breathing difficulties, and can also weaken the muscles in and around the heart, putting Carmela at risk of a sudden heart attack.
Regular exercise, movement and stretching is important for Carmela to maintain her strength and stamina, but when lockdown hit, the family's carefully built routine and the care they had in place was taken away overnight.
Lucy said: "Staying active, stretching and moving is very important for Carmela, but I found it very difficult to motivate her during lockdown. She was no longer going to school and we had to shield meaning we couldn't go much further than our drive for five months.
"The NHS don't provide regular physio anyway, but the little we had was lost."
Their situation was made more difficult when they decided dad Darren, a delivery driver whose job involved picking up Covid samples, should temporarily move out and sleep in their garden log cabin allowing Lucy and Carmela to self isolate.
Lucy said: "It was a very difficult few months, but we tried to make the most of it. Carmela completed several fundraising challenges and raised more than £30,000 for muscular dystrophy charities, I was so proud of her."
Carmela was on the waiting list for hydrotherapy sessions as her consultant had advised warm water is an excellent form of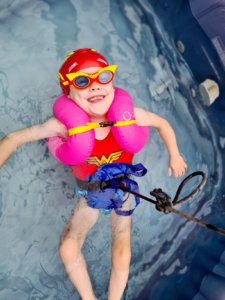 physiotherapy, so Lucy applied to The Sandcastle Trust for an inflatable hot tub they could use in their garden.
She said: "We were so excited to receive the hot tub. Carmela loves splashing about in there and all the bubbles. We've rigged up a bungee cord for her too so she can have some independence and I don't have to hold her the whole time.
"The warm water is really helpful for me when I stretch her muscles, and makes her physio much easier. And Carmela and her dad love getting in there together so he can relax after work.
"It's made such a positive difference to our daily routine and it feels like a real treat."
Like many six-year-olds Carmela loves her pet dog Tinker, unicorns, fairies and movies. Her favourite character is Wonder Woman.
Lucy said: "Carmela loves the control Wonder Woman has over her body and the way she can use her super powers.
"Relaxing in the hot tub gives Carmela a sense of weightlessness, it's a place where she has more control of her body too.
"Seeing her splashing around in her Wonder Woman swimsuit, enjoying the bubbles and the warm water is such a joy for us, and it's very helpful for her physio too.
"We always try to make the most of the time we spend together as a family, and the hot tub has really helped us to achieve that."