Meet 8 year old Tabby.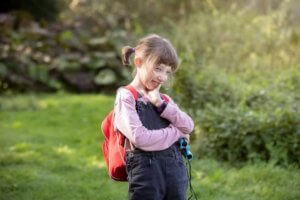 Tabby's family have been on a very long journey to obtain the correct diagnosis for her and she has recently been diagnosed via the 100,000 Genomes Project with TANGO2, a very rare genetic metabolic condition that causes episodes of metabolic crisis and carries the risk of cardiac failure.  It is thought that there are less than 30 affected individuals worldwide.  Tabby also has a chromosome disorder – 22q11 deletion. This affects her in various ways; she has learning difficulties, speech difficulties and a cleft palate.
Hannah, Tabby's mum explains "It has been a scary time for us as a family getting our head around the TANGO2 diagnosis and it has been made so much harder by the coronavirus lockdowns and the isolation this brings."
Hannah got in touch with The Sandcastle Trust and told us how Tabby and consequently the whole family have really struggled with the Covid-19 restrictions, "Tabby does not really play with toys, she needs 1:1 supervision and does not play independently.  She hates being cooped up indoors and loves to be outside whatever the weather.  She has found this winter lockdown particularly hard."
Tabby's family were one of the first families to benefit from our new category of support – 'Sandcastle Memories At Home' and we were pleased to provide Tabby with an Artmark House.  A fun alternative to easels, the Artmark House will provide Tabby with her own sheltered space with white board, black board and perspex surfaces to draw and paint on.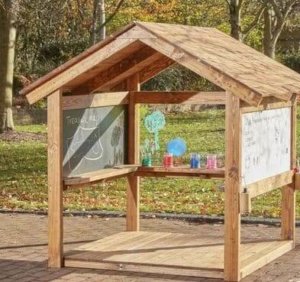 The Artmark House is in the garden which is where Tabby is at her happiest.  It gives her a safe place where she can be creative and try to develop more independent play.  When she first saw the house she was so excited.  I have not heard her laugh this much in ages. She loves painting and drawing in it. Thank you so much to The Sandcastle Trust.