Three-year-old Sam Murray has just been on his first holiday to Cornwall. He watched in awe as waves crashed against the rocks, loved building sandcastles with his dad and saw lifeboats setting off on a rescue. It sounds like just a normal family holiday, but for Sam and his parents Harriette and Graham, it was an extraordinary holiday and one they didn't think they would be able to go on.
For Sam has a rare and life-limiting genetic condition, which causes damage to the muscles throughout the body. And this holiday was a respite break arranged by The Sandcastle Trust for families living with a rare genetic condition.
Harriette and Graham drove the six hours from their home in Kidderminster, Worcestershire, with the car full of all the equipment needed to look after Sam, including his wheelchair, night-time ventilator, peg
feeding equipment, medication, and rescue oxygen. It was the first time the couple felt confident enough taking Sam away for a week, due to his complex medical needs.
Harriette says: "Sam loved it. He has never really seen the sea before, and he had never been to a beach. The weather was rough, and he loved watching the waves crashing against the rocks. He just wanted to stare at the sea for an hour. He thought it was brilliant. For us the trip allowed us to have that break from reality and spend quality time together."
In February 2021, aged 13 months, Sam was diagnosed with infantile-onset Pompe Disease, and was found to be in cardiac and respiratory failure. Doctors told parents Harriette Cooper, 30, and Graham Murray, 40, they didn't think Sam would survive.
"It was heart-breaking, and our lives started unravelling before us," Harriette recalls. "You never think this will happen to you. We first noticed at around seven months that Sam's arms were floppy. But because of the pandemic there were no baby weigh-ins or health visitor appointments. We asked the health visitor to see him when he was ten months old and then he was referred to hospital.
"The silver lining was that the pandemic lockdown had kept him safe and away from germs, but when we got the diagnosis we couldn't even hug our families. It made it tremendously difficult."
Pompe disease is a metabolic genetic condition in which complex sugar called glycogen builds up in the body's cells, as a result of a deficiency in an enzyme that breaks down the sugar. This build-up of glycogen affects all muscles of the body, including the heart and lungs. Without treatment the prognosis is bleak.
Luckily Sam was approved for a new experimental treatment of enzyme therapy which started as a trial before being licensed in August 2022. After four months in hospital and two weeks in a hospice to support the couple in caring for Sam at home, he was able to go home. His parents were trained to give the enzyme replacement therapy infusion, every fortnight, at home.
Since then Sam has defied the doctors' expectations. Sam has regained some movement in his arms and upper body and improved his core strength, so he can sit with support and play with toys, greatly improving his quality of life. He has many complex medical needs; he is fed through a gastrostomy tube and he needs to use a wheelchair. He sleeps with a ventilator as he can stop breathing during the night and has an overnight carer five nights a week. However, he no longer needs 24-hour oxygen, which is a real breakthrough.
Harriette says: "Sam's condition will always be life-limiting, but doctors are thrilled with how he is doing. Sam attends an early year's nursery and a special needs school for one day a week and is able to play with toys – he especially loves trains and Toy Story. He is non-verbal but he babbles and uses Makaton. You can definitely tell what he wants!"
With Sam no longer needing full-time oxygen, the couple started to think about the possibility of a holiday together and applied for the Sandcastle Trust's programme Sandcastle Memories, which offers respite for families living with a rare genetic condition, in the form of UK breaks and days out.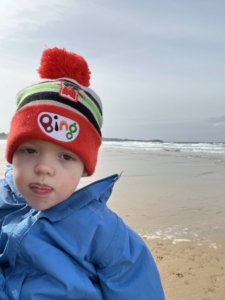 The Sandcastle Trust wanted to help Harriette and Graham to create special memories with Sam and were able to arrange a week's stay at Waves End cottage in Polzeath, Cornwall.
Harriette used to go to Cornwall every year on family holidays and had many happy memories of her trips as well as one very difficult memory.
"The last time we went to Cornwall was six years ago," she explains. "We suffered a miscarriage there and it was a bit of a traumatic experience. We kept a bit of Cornwall in our hearts, so it was emotional. I was nervous to take Sam down there, with his medical needs, but it was nice we could share Cornwall with him and heal."
Sam had a fantastic time on his first proper holiday and the whole family had a chance to relax and recharge.
Harriette says: "He was able to build sandcastles with his dad and we carried him into the sea to get his feet wet. When we got home, we filled a sandpit as he wanted to play with the sand. We walked coastal paths, visited Polzeath, we went to the Eden project which was amazing and so sensory and accessible for Sam. We all thought it was fantastic and Sam loved the waterfall. We went to an accessible, sensory orchard and playground at Pentire Point National Trust and on Mother's Day we went for a cream tea. Then in Padstow Sam loved seeing the boats in the harbour and saw lifeboats launching. It was Graham's 40th birthday just before we went so it was great to mark that too."
"It was lovely to get away and do something just for us," Harriette adds. "It is a full-time job and exhausting looking after a child with medically complex needs. In Cornwall we could switch off from the day to day, press pause and allow us to be a normal family. We are so grateful to the Sandcastle Trust."