In 2009, at 28 years old Dave, my rugby playing, police officer husband started walking like he was drunk.  On a holiday to Spain with friends, he suddenly lost the ability to wear flip flops, they would fly off his feet – it was the running joke of the holiday.  Fast forward a few months and he started to have falls, walk with a limp and experience painful spasms in his legs.  This was less funny – although we were still not overly concerned, he was young and apparently healthy, we thought perhaps a trapped nerve or a slipped disk was to blame.
What followed was the worst three years of our lives.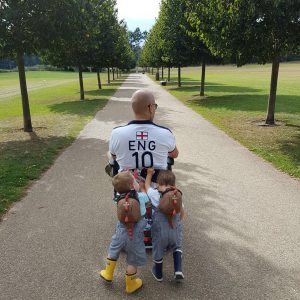 A report published by Rare Disease UK found that the average rare disease patient consults with five doctors, receives three misdiagnoses and waits four years for their final diagnosis.  This was certainly our experience.  Dave was subjected to appointment after appointment where various consultants would shrug their shoulders and an endless round of blood tests, MRIs, lumber punctures and nerve conduction studies.  It was made clear to us that it was serious, neurological and degenerative – he wasn't going to get better, in fact he was going to get a lot worse.  Then came a series of misdiagnoses: First MS, then Primary Progressive MS, then Spastic Paraplegia and then PLS (a rare form of Motor Neuron Disease).
It was an awful, lonely time.  We felt isolated and lived a day to day life of fear and uncertainty.  We were frustrated and terrified.
Finally, in 2012 he received the formal diagnosis of Adrenomyleoneuropathy – a rare genetic neurological disorder.  Even the consultant wasn't expecting to give us a diagnosis that day.  We had met him for another routine appointment and a print out of Dave's latest blood tests which were handed to the consultant by a nurse during the appointment had thrown up the result.  He stumbled over his words as he gave us the news and Googled the condition in front of us.
The initial feelings were those of relief. Finally, we knew what was going on, the exhausting battle to kick down every door and shout loud enough to get a definitive diagnosis was over and we could begin to access the help and support Dave desperately needed but was so difficult to obtain without a medical label.   But the diagnosis also bought with it the reality of a potentially frightening prognosis and snatched our future away.  This wasn't meant to be part of the life we had planned together – we were newlyweds, had just purchased our first home, both enjoyed our jobs and were planning on travelling, having fun and then perhaps starting a family.
Whilst he was undiagnosed Dave and I would have long conversations where we fantasised about being told it was something temporary, a phase, treatable and would get better or change.  That's hard to do when you have a diagnosis and we went through a long period of grief, mourning the life we thought we were going to have.  However, when the shock began to wear off, we entered a period of adjustment and started to look at things more practically.  My own ignorance and prejudices surrounding disability initially prevented me from envisioning us ever having a happy family life but you learn to adapt, to assimilate and a future started to emerge albeit most definitely not the one we had planned or hoped for.
Four years on and Dave is spending increasing amounts of time in a wheelchair and lives with the uncertainty that for some people with his condition the prognosis is terminal.  Despite the constant daily challenges he faces because of his condition, he still works full time, has become a father to twin boys and enjoys family life.
As time went on we began to learn more about Dave's condition.  He had a less aggressive adult onset form of a gene mutation that usually kills boys before the age of ten.  The knowledge that he may not have had a childhood and the opportunity to have a family, made Dave determined not to be overcome with fear about what might happen in the future, to make the best of each day – focus on the happy moments and not let disability be a barrier to experiencing everything that life has to offer and that included enjoying time together as a family.
This however, proved easier said than done.  We quickly realised that Dave's condition would mean we would have to navigate all manner of physical challenges when planning days out or holidays for our family.  We began to think about how much harder it must be for other families in the rare genetic condition community to access much needed fun and respite – those that were unable to continue working following theirs of their child's diagnosis, or those that have several children with the same diagnosis, for example.
That is where the idea of the Sandcastle Trust comes from.  The physical emotional and financial strain of having a loved one with a rare genetic condition can often tear families apart.  We hope to help other families like ours access holistic respite improving health, wellbeing, happiness and quality of life.