Kelly Harrison had a normal pregnancy with her second child, Vinnie James. But when her baby son was just four weeks old she noticed his muscles were unusually weak. He had no real strength in his neck and his arms were floppy. Kelly spoke to her health visitor who thought it wasn't a cause for concern.
Then at eight weeks old, Vinnie had a temperature and was very floppy. Kelly, from New Malden, Surrey, took him to hospital and refused to leave until she saw the lead paediatrician. He was referred for an urgent appointment to St George's Hospital, London.
A week later, Kelly, 36, and partner Luke James, 37, took their son to see the neuro-muscular paediatric consultant. The doctor diagnosed him on sight with the genetic disorder SMA Type 1. Vinnie was just nine weeks old. Blood tests confirmed the diagnosis a week later.
"I already suspected it was a muscular atrophy or dystrophy," Kelly recalls. "I was very worried. I had a childhood friend whose daughter had SMA type 2, so I had heard of it before. It was absolutely terrifying. I searched online and found information which said 90% of children with SMA type 1 are dead before the age of two. The doctor told us Vinnie wouldn't make it to his first birthday. Nothing could be done about it and we should just take him home and love him. It was overwhelming."
SMA is a rare, genetically inherited, neuromuscular condition which occurs in around one in 10,000 births. It is inherited in an autosomal recessive manner – this means both parents need to be carriers of a mutation in the Survival Motor Neuron 1 (SMN1), for their child to have SMA. There is a one in four chance of a child inheriting the disorder and a 50% chance of a child being a carrier.
There are four main types of SMA. Types 1, 2 and 3 appear in childhood and type 4 is adult onset. The SMN1 gene produces SMN protein which affects a particular set of nerve cells in the spinal cord and brainstem, called the lower motor neurons. These neurons carry messages that make it possible for us to move the muscles we use, to walk, move our arms, hands, head, and neck, and to breathe and swallow. If there is a reduction in the production of SMN protein -as with Spinal Muscular Atrophy- muscles are affected.
Symptoms of SMA are variable but in SMA type 1, the onset typically occurs before six months old. Babies are floppy, due to their low muscle tone (hypotonia) with severe muscle weakness. This muscle weakness affects movement, swallowing and breathing. The brain is unaffected, and children are often described as bright and alert. SMA type 1 is severely progressive.
Whilst the family was reeling from the diagnosis, Vinnie was offered a lifeline in a clinical trial of new drug Spinraza, trials of which were ongoing into whether it could halt the progression of SMA. In October 2015, at seven months old, Vinnie joined the Spinraza clinical trial at Great Ormond Street Children's Hospital, London.
Spinraza aids the production of the SMN2 protein, which is the back-up gene to the SMN1 gene. It helps to stop muscle deterioration and halt the progression of SMA. The drug is delivered via lumbar puncture every 17 weeks. Spinraza was approved for NHS use by NICE in May 2019.
Kelly says: "A month before Vinnie started the trial, we almost lost him as he went into respiratory distress and was very weak. He used a facial ventilator all day and he didn't move. Now thanks to the drug trial he is off the ventilator for eight hours a day. He has arm and hand movements. He can play with toys, use an iPad and operate his powered wheelchair. It has been amazing. He would probably be dead by now without the clinical trial."
Vinnie can sit up, supported, however he has lost his swallow function. He has what is known as an unsafe swallow – so he is fed through a tube in his stomach. He doesn't speak and has tongue tremors. Vinnie started in a special needs school in May 2018 and Kelly stays with him to help with his care. Vinnie sees the neuro-muscular medical team every four months. He has physio both at school and at home.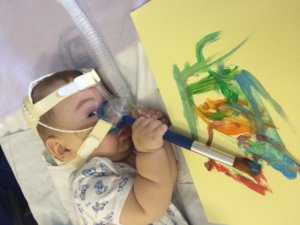 Kelly says: "Vinnie enjoys school. He is intelligent and knows his numbers, colours and shapes. He needs stimulation as he gets bored quite easily.
"Caring for Vinnie is a 24 hour, seven days a week job. We live in a flat and I carry Vinnie up 15 steps, with no lift, to get to our flat. I take him on my daughter's school run. We have overnight nursing every night, and Vinnie is ventilated and fed overnight. I get to sleep but I don't sleep well. When he is on his ventilator, he doesn't need to have his airways cleared. Off the ventilator he can aspirate on his secretions if we do not stay on top of clearance. He has reflux and when that is bad, we have to suction his secretions more."
Kelly adds: "We have entered the unknown, we don't know what the progression of his SMA will be. My biggest worry is if Vinnie gets sick as he can't cough to clear his lungs. A cold is life threatening to Vinnie, so we have to be very careful and we avoid crowds."
Thanks to The Sandcastle Trust, Vinnie had a Sandcastle Santa day out at Chessington World of Adventures to meet Santa in 2018. As the trip was scheduled for a quieter time, it meant Vinnie could avoid the crowds.
"Vinnie enjoyed the day out so much," Kelly recalls. "It was lovely to make memories as a family. Vinnie loves to go out for the day. He enjoys theme parks, fairgrounds, the zoo and woods. He is a real outdoors kid. On the whole he is a happy little boy."
This year, when lockdown restrictions were lifted and Vinnie no longer had to shield, The Sandcastle Trust arranged for Vinnie and his family to have a short break away together in an accessible lodge in Somerset:  "We had such a lovely time!" Kelly recalls.  "Vinnie was in and out the hot tub every day, and Kaydee and I some really special and rare girlie time together when Vinnie had gone to bed.  We cannot thank The Sandcastle Trust enough, it was wonderful to get away after such an awful year."